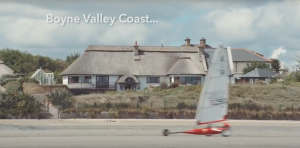 View our popular Video here 
Welcome to The Boyne Valley Region for the European Sandyacht Championships 2017 on Laytown & Bettystown Beach in County Meath.
The initial promotional video for our hosting of the 52nd edition of the European Sandyacht Championships in 2017 is getting great attention. Since launching solely on our IPKSA Facebook page in mid October the video has had over 10,500 views. Thats a lot of people looking at what is on offer for our event in 2017.
We aim to release another video in April 2017, let us know if you or your business have content that you would like included in our next wide reaching video to promote the 2017 event.
Euro 2017 information page Here- Ici
Comments
comments