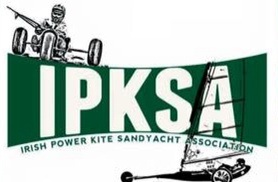 New members are always welcome.
Join online using the forms below.
Why join ?
Apart from sport on and off the beach our members share knowledge and experience assisting others to advance in the sport. Members can also arrange to have the use of association Landyachts and associated equipment .
Each year there are opportunities for members to attend International Landsailing events or to be part of the Team Ireland at European or World Championships.
Don't own equipment just yet, Sandyachts can be made available to members who do not own their own, by arrangement.
NOTE: All members must individually arrange to have in place an appropriate and valid Landsailing insurance cover before commencing activities. Access to annual cover is possible once you are a member of the national association (IPKSA).
Also, you are joining an association of like minded individuals who love windsports and who do their best to promote and protect access to windsports while still having fun and investing in equipment for members use.
We practice our sport on the beautiful beaches of Ireland and encourage others to take care of and contribute to the upkeep of those beaches through joining litter picks and such like. Your involvement and interest in IPKSA is welcomed and we all value it…
2023 MEMBERSHIP :  
JOIN ONLINE
Online payment is easy and is available below.
*By using the online payment option it is understood that you accept and agree with the following Declaration:
I declare that all persons named in the online application form are in good health and are fit to undertake the sports outlined.
I agree that all persons named in the online application form are living in the geographical region related to the membership they have applied for.
I agree to abide by all safety guidelines set out by the Irish Power Kite & Sandyacht Association. I further declare that to the best of my knowledge and belief there are no known incidents or circumstances that might give rise to a claim against IPKSA or any member applicant for whom I apply.
I accept that PayPal charges are added to my online membership fee payment and not deducted from the membership fee quoted.
I accept that unless my annual membership contribution is paid for the current year I will have no right to insurance cover arranged for IPKSA members.
I understand that membership is normally paid on a calendar basis and it starts from membership payment and acceptance until the 31st of December in the year in which membership was paid. However, ±± Exceptional circumstances due to Covid 19 – memberships paid in 2021and 2022 are valid up until 30th Nov 2022.
€ Euro Area Membership 2021- 2022