After an action packed Irish  round of the 2013 Celtic Challenge on Benone Beach it's all to play for when the return leg in Scotland takes place on Luce beach.
After day one  of racing in glorious summer weather on Ireland's North Coast the home team were trailing by just 3 points To Team Scotland
Day two brought gustier conditions which appeared to favour  Team Ireland  as the day and  first leg of the challenge finished with Ireland  1 point ahead of Scotland. So all to play for at the Scottish leg of the challenge.
A big thank you to who traveled from Scotland for the event, we hope that you enjoyed your weekend. An even bigger thank you to the race masters and marshals for the weekend for their support and to Pat & Jo Letters of Blokart World for feeding the troops.
Ken Cox captured some fantastic photographs over the weekend including one of impending doom for our scots pal Alan !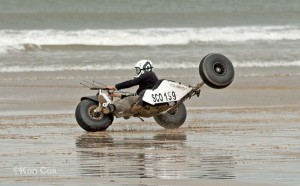 Comments
comments