Sand Yachts & Kites on the East Coast
Bettystown is the location, Saturday 7th and Sunday 8th April between 0900- 1530 on both days.
This is the final round of the 17/18 Winter Season.
There will be Taster sessions and training for those wishing to avail them on Saturday 7th from 1030 – 1430 aprox.
Members will be meeting on the beach at Bettystown to organise the days activities at around 0900 each day. On Saturday evening there will be a social evening.
As this is the last event, members are encouraged to attend and participate or assist in training new people.
Bettystown is a popular location for taster sessions and its always great to see the smiley faces and the grins of excitement from first timers flying power kites or sailing mini yacht.
Keep a watchful eye on the facebook page for further information.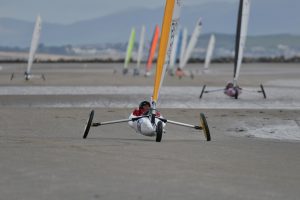 Comments
comments