Short Video Clip  (by  Robert Nortje ) click Bettystown April 2014
The Irish 2013- 2014 Kite Buggy Championship season ended with what can only be described as a cracking weekend on Bettystown Beach in County Meath. Our thanks go to Meath Co.Co and  Drogheda Coast Guard Unit for their help and also to the local community for their welcome and enthusiasm, and of course our thanks also go to the many pilots and volunteers who partake and help out, we thank you. Such is the popularity of Bettystown for the sport that Participants travelled from locations like  Galway, Derry, Antrim, Wicklow, Edinburgh, Kildare  and more local counties.
Racing commenced on Saturday afternoon and three races were held followed by a meal in Delfino Bay Restaurant and refreshments in Gilnas Cottage Inn, Laytown.
Sundays races commenced at 6.30am prompting an early retreat for some but not all, on Saturday night.  Everyone was keen to conclude the series with a further three races on Sunday morning and by 9.00 am  after three races the Irish Championship was decided. Following a litter pick on the beach the competitors and officials returned to the Boyne Valley Hotel in Drogheda for Breakfast which was followed by the AGM  chaired by the outgoing President local Stamullen man Adrian Phelan , Treasurer Tom Leonard, Julianstown and Secretary Colman Billings, Dublin,  whom the members thank for their commitment.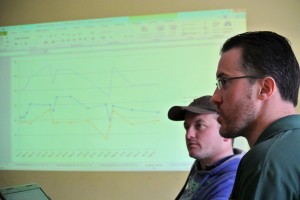 The conclusion of the season meant that Bettystown was the deciding event as the scores for the KiteBuggy Class 8 series was so close. After 6 events in great locations around Ireland North and South there could be only one winner. It's a credit to the IPKSA National Kite Instructor and Opale Kites pilot Robert Finlay that he trained his successor to the Irish Championship so well. Robert has held on to the IR1 position for a number of seasons and trained his successor well, so well that within 4 years of starting kite bugging with the IPKSA the new Irish Champion Pete Stinson has been on the Irish Kite Buggy Team at European Championships in England and Germany and the World Championships in France, a terrific achievement and a fast track to the world stage of Kite Buggy racing.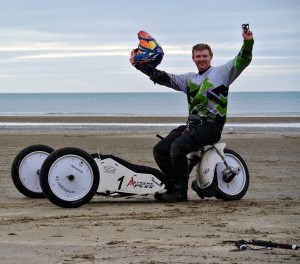 2013 – 2014 Series winner – Irish Champion Pete Stinson
Petes commitment to the sport extended to him traveling to Ireland from work in Scotland on a number of occasions to compete in the Irish Championships, the craic was so good that he didn't want to miss out!  Pete is now a sponsored Ozone kites pilot and this winter he also competed in and won the Scottish Championship for 13/14, no mean feat. To cap off Petes year he was selected by the IPKSA members at the AGM to represent IPKSA as it's new President. In his opening address Pete thanked and paid compliment to Robert Finlay for teaching him "too" well and committed to focusing on assisting new member progress in the sport and he promised to retain the friendly and social atmosphere of the events.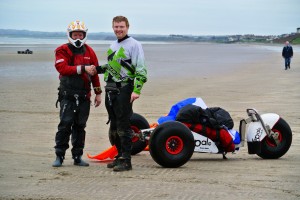 Robert Finlay 2nd, congratulates Pete Stinson on winning the Irish Championship
While Robert was knocked off the podium into second place it is worth mentioning that 2nd and 3rd  places were well fought for this season and in the end finished with Damien Rabbett back on the podium picking up a well deserved 3rd place. Well done to the podium pilots and well done to our club class pilots who are progressing fast and may soon also step up to the podium, future champions in the making.
l-R – Robert Finlay, Pete Stinson, Damien Rabbett.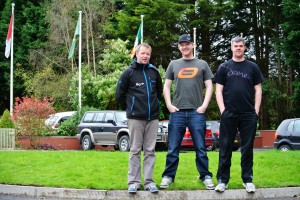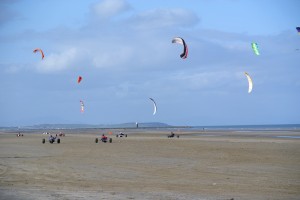 Bettystown
A great season with lots of fun and competition enjoyed by all who attended.
IPKSA are accepting new members at present and all members are committed to assisting newbies to learn and progress within the sport, so drop over to the IPKSA Facebook page and say hi if you are interested in joining in the fun. If you can contribute to the fun , well you are in the right place!
Next Kite event is The Celtic Challenge on 24th & 25th of May when Scotlands top buggy pilots go head to head with the top Irish pilots in the Irish leg of the Challenge based on Bettystown Beach.
Photos here… Bettystown Photos
Comments
comments