Members attended the 18th Annual Laytown Hot Toddy sail , picnic, chat and chew gathering of kite and sandyacht pals on 30th Dec 2018.
The wind was light but the weather was extremely mild and the craic was good.
Many thanks to those who hosted the gathering and to Trish for the Annual Soup Pot, Mary and Kian for the sambas and Cakes, Debbie and Adrian for the Cheese plate and breads, indeed thanks to all who brought along food offerings for sharing.
The Stars of the day were without doubt the under 12 juniors with Patrick, Ethan, Tom and Debbie encouraging juniors Charlie and Hugh to continue showing everyone how to sail well in light airs. Hugh even gave us a capsize demonstration under the watchful eyes of his instructors Alan and Paul.
While the experienced Class Standart pilots like Sean Doherty, Vincent Clarke and Colman Billings presented a great spectacle on the beach they were completely out sailed by talented young Owen Clarke. Owen gave a demonstration of how to sail a Standart in light airs which even the most experienced pilots were watching in awe, well done Owen.
Entertainment wise Katie Clarke decided to raise the laughter level by intentionally sailing straight into a very deep pool in front of the picnic area, she certainly accomplished her aim.
It is always great to meet up with others who enjoy and appreciate beaches and wind sports and the Hot Toddy each Christmas is like the Kerry Miniyacht Holiday each May, its a day not to be missed.
IPKSA 1st event of 2019 is on Benone Strand January 19th and 20th , see you all on this beautiful 12km northern beach.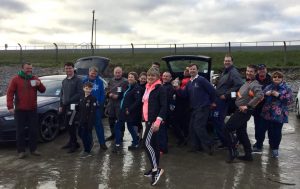 Some of the 2018 Hot Toddy participants pose for the now familiar annual picnic photo .
Some phots from the 2018 Hot Toddy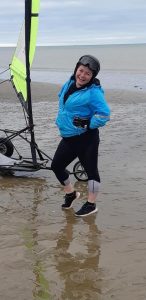 Comments
comments